Wondershare Filmora Download
Wondershare Filmora is a powerful video editing software with key features that can enhance creativity and efficiency. It offers AI-powered tools like Smart Cutout for easy object removal, Instant Mode for quick video creation, and Auto Beat Sync for seamless music synchronization. You can add dynamic effects using keyframing and motion tracking, while preset templates and Title Editing simplify title creation.
The software also includes features like Split Screen for multiple screens, Color Correction for professional color grading, and AI tools such as Image, Portrait, and Audio processing. Filmora is a comprehensive solution for editing, effects, and audio, enabling anyone to create professional-looking videos with ease.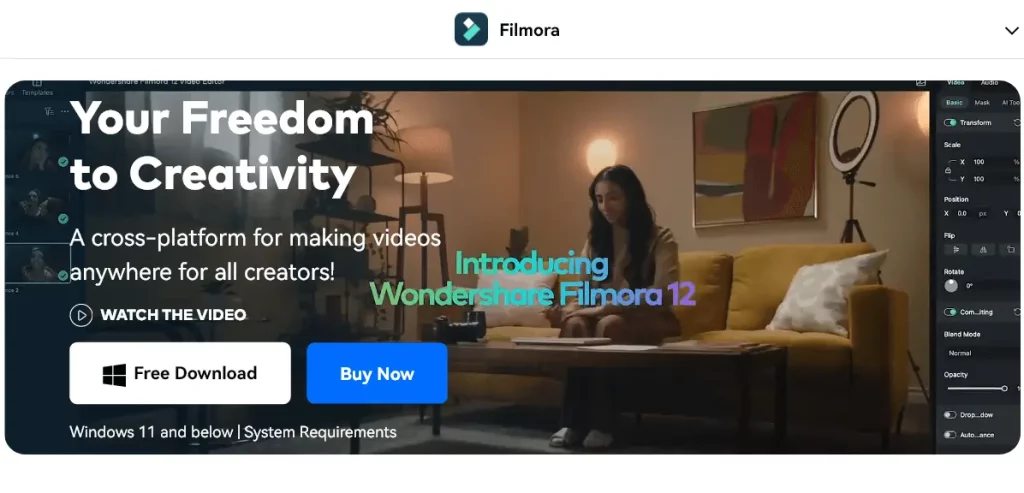 The integration of artificial intelligence (AI) into Wondershare filmora marks a significant advance in the field of video editing. A Wondershare, a renowned software company, recognized the importance of AI in optimizing. The video editing process and incorporated intelligent features into its popular platform Filmora. Playing a key role in many areas of Filmora, artificial intelligence provides users with an enhanced experience. And high-quality results not seen elsewhere software.
 AI automates tedious tasks, saving time and allowing users to focus on creative expression of the features Filmora offers. With smart features in hand, the software helps users to produce high quality videos with professional results. Even for those with little experience in video editing.
Wondershare Filmora AI Tools
Wondershare filmora presents a wide variety of professional resources on its platform capable of offering its users countless quick and easy solutions, helping everyone to have the possibility of producing and editing projects with ease without any of the projects losing quality. Here are three of the best AI tools that can be found in the software, check them out:
AI Copywriting
Using Filmora AI Copywriting can simplify the process of creating videos by utilizing AI to generate content.
Filmora AI Copywriting is integrated with the ChatGPT API
Get inspiration through AI-generated scripts
Generate AI copywriting for text during video editing
Generate YouTube Titles & Descriptions using AI
AI Image
Transform your creative concepts into stunning visual pictures with Filmora AI Image. Describe what you want to see and let AI Image bring your imagination to life in visual pictures through advanced artificial intelligence technology. Break free from creative limitations and unleash endless possibilities with this innovative tool.
Introducing Text to Image
3 resolutions to choose from
Use directly for your video project
No limit to your image style
AI Smart Cutout
With man-made intelligence power in Filmora, you can undoubtedly choose and alter out any undesirable article or foundation in your clasps.
The simulated intelligence Shrewd Pattern highlight opens a straightforward mode for makers who need to eliminate undesirable items from a video. You can likewise pick the high level mode to change the following heading.
Need more than man-made intelligence work? You can constantly refine the pattern outline by outline.
Filmora gives 4 methods for seeing and adjust the chose region. Notwithstanding the default Overlay Review mode. You can pick Straightforwardness Matrix, Straightforwardness Dark, or Alpha Mode (contrast for dark and white).
Avatar Presentation
Break liberated from static introductions! Bring your reports, talks, courses, and advisers for existence with Filmora Symbol Show. Our virtual symbols catch your crowd's consideration and make your substance more captivating than any time in recent memory. With Filmora, you'll have the triumphant recipe for show recordings that leave an enduring effect.
Animated Avatar that can talk, mimic facial expressions, and move in real-time.
15 avatars to choose from.
Make presentations with your own VRM.
Custom avatar locations, change the background, and add a transition.
Quick Split Mode
In the Speedy Split Mode, you can straight-cut your clasps in the timetable with the razor device, which significantly further develops your altering effectiveness.
Activate the razor tool with preset shortcut keys to perform video editing in less time and boost productivity. You can also customize your own keyboard shortcuts for a smoother workflow.
Motion Tracking
Track the movement of an object in the video, and pin graphics to the moving objects with Filmora motion tracking tool. Select the objects you want to track, adjust the scale of the tracking box, and start motion tracking. Filmora will intelligently analyze the movement of the tracked object and automatically track its motion path.
With the AI motion tracker tool in Filmora, add titles and texts to follow the motion of the tracked object and make things move smoothly with ease. Create a call-out title with a moving object in the video, add a name that follows the athlete's moving path, and productively unleash your creativity.
Need to obscure moving countenances or tags in a video without adding mosaic impacts outline by outline? Attempt movement following the mosaic impact in Filmora. Filmora highlights worked in mosaic impacts in its Movement Tracker apparatus, which permits you to obscure, pixelate or control faces or any items in each edge all through the video.
Assets Backup & Sync
Back up your media assets, project records, and impacts with the free distributed storage given by Filmora. Transfer now, and move to new gadgets without stresses.
Assets backup & sync saves you time from looking up your favorite media resources on a new device. You can store effects in the cloud and use them anytime, be it a Youtube subscribe sticker or a finely edited title. To be specific, 1000+ effects within 10 seconds each can be stored for free.
Back up your incomplete recordings as document project documents to the cloud for sometime in the future. Filmora 12 makes video altering from home to office consistent for everybody. It takes just flickers to transfer a 30-second video.
Upload your work to the cloud during editing or exporting in one click. Your files stored in Filmora will be encrypted and protected from unauthorized access, such as data hacks and ad personalization.
Author Review
Wondershare filmora offers the standard managing, advances, and overlays, alongside impacts we've generally expected in aficionado level video altering programming. The organization keeps on adding progressed and present day highlights like those you track down in additional laid out contenders — for instance, movement following, keyframing, and discourse to-message. Filmora can take care of business, and its point of interaction is clear and satisfying, yet you'll need to manage without a portion of the fine control you get with other video altering applications.
With the most recent update, Filmora gets a much slicker connection point with new design choices, as well as new computer based intelligence fueled devices like Savvy Pattern apparatus for Photoshop-like covering, sound stretch, sound denoise, change layers, all the more impressive keyframing, veil drawing, and loads more stock substance. Everything amounts to a great application, yet one that actually lingers behind our #1 aficionado level video altering programming, Editors' Decision victors PowerDirector and VideoStudio for the PC, and Finished product Genius on the Macintosh.